Table of Contents:The Ratcliffe Highway Murders > 1 > 2 > 3 > 4 > 5 > 6 > 7 > 8 > 9
So, on New Year's Eve 1811 the grisly procession wound its way slowly through the streets of Wapping stopping for ten minutes at a time outside the scene of each of the murders. Some ten thousand people lined the route but there was none of the feared disorder. In the event only one person, a Hackney Carriage driver reached down from his seat and struck the body three times about the head with his crop. When the cart carrying Williams' body arrived at the crossroads of Cable Street and Cannon Street, close to Hawksmoor's St George's Church which, just a couple of weeks previously had seen the interment of the Marr family, the procession halted at the point where a grave had already been dug. The corpse was removed from the cart and a stake driven through its heart. Williams' body was then dumped into its grave in a kneeling position...... And there it remained for about a hundred years, until a gang of workmen discovered the body whilst laying some gas mains. The body was removed for research and investigation although, it is said that the skull was kept in a nearby public house for a number of years, until, one day that too disappeared.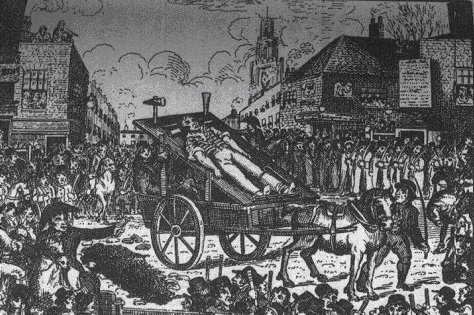 The procession of Williams' Body
Continue to the next page (7) to learn more about the Ratcliffe Highway Murders.
^ back to the top ^