Table of Contents > Origins > Establishment > Government Sponsorship > 1900 To WW2 > WW2 To Present Day
WW2 To Present by Dick Paterson
In 1964 policing of the river was extended by two additional stations above tidal limits. They were Hampton Lock and Shepperton, enabling all the Thames within the Metropolis to be effectively patrolled.
Recent changes in the way that London is policed has required Thames Division to change not only its name but also the way it operates. It is now known as the Marine Police Unit (MPU) of the Metropolitan Police and its officers are available to police not only the Thames but all the marine environments within London.
The major role of the MPU today is providing security for Central London. The duties and taskings carried out by its officers are intelligence led and they play a major role in maintaining London's safety
Wapping continues to be the headquarters of the MPU and is now its only base on the river. 24 hour patrols operate from there covering not only the Thames but all marine locations within the Metropolitan Police area. Marine Incident Response Vans also operate from Wapping providing support for any borough within the Metropolitan Police area. Each van carries an inflatable boat with an outboard engine as part of its equipment.
Training for todays MPU officers is comprehensive and includes courses in navigation and marine legislation in addition to boat handling. All officers receive training on every craft operated by the MPU including its equipment. The training takes one year and officers are then tested on every aspect during a rigorous examination.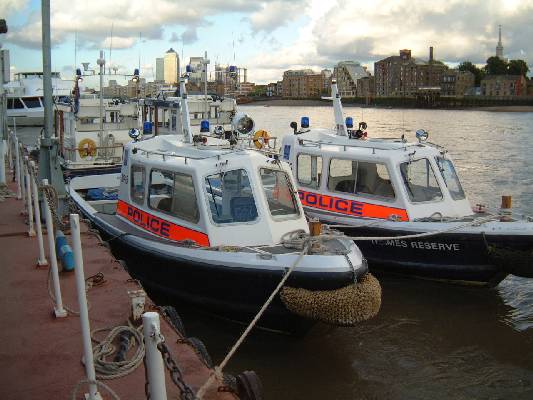 Two single engined police launches at Wapping.
Congratulations you have completed this section of the Thames Police Museum, please return to the table of contents
^ back to the top ^