Table of Contents > 1 > 2 > 3 > 4 > 5 > 6 > 7 > 8 > 9 > Mass burials. (10) > 11 > 12 > 13 > 14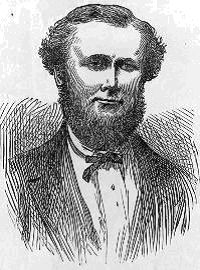 Captain Grinstead, master of the Princess Alice
Monday September 9th. 1878. Because of the decomposed state of many of the dead the Coroner ordered the mass burial to take place of the unidentified corpses. They had their clothing removed, were washed and shrouded whilst a bundle with the victims number attached, containing their property and clothing was retained for identification purposes.
Once a child or female body had arrived and been identified, it was removed from the line of bodies to another part of the mortuary. The women from the local workhouse spent the whole week preparing the corpses, which were bathed and placed in coffins, they were then taken elsewhere ready for the next of kin to arrange removal.
September 10th. 1878. Many bodies were to float to the surface well after the mass funeral and be landed and dealt with by other Coroners and some, it was suspected, were never found. Thames Division crews gave up their leave and remained on duty longer than officially required to prove to all that everything that could be done was being done. The remains of the vessel had to remain in situ and to prevent further vandalism two constables remained aboard day and night until they were eventually removed.
September 14th. 1878. Superintendent Alstin, on request of Coroner Carttar arranged for him, the various councillors and his jury to be escorted to the scene and to inspect the damaged paddler during the hearing. Almost everyone involved was allowed to give evidence (too many in some people's opinions). A similar arrangement being made for the Board of Trade enquiry although, at the Coroner's request this was delayed until October 14th. It was announced that there were only four decomposed unidentified bodies still in the mortuary and the total recovered at that time as being six hundred and thirty one persons.
Continue to the next page 'Officials examinine the scene'. (11) to learn more about the Princess Alice disaster...
^ back to the top ^