Table of Contents > 1 > 2 > 3 > 4 > 5 > 6 > Crowds gather at scene. (7) > 8 > 9 > 10 > 11 > 12 > 13 > 14
When the exact location of the tragedy was discovered, crowds trudged along both shores to silently watch the fearful sight or stand as near as permitted to the two sections of the once proud Princess Alice once it had been beached. Tripcock Point between Galleons and Barking Reaches seemed like a ghoulish battleground as dozens of watermen dipped and probed the river with long boat hooks or Royal Humane Society drags seeking to find the dead, A macabre but lucrative occupation with crews vying with each other to gather in as many bodies as they could find, each being worth five shillings to the recoverer.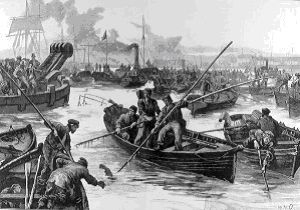 Bodies being recovered after the collision
September 5th. 1878. On the morning low water many bodies were discovered having 'ebbed dry' and were recovered. Some of these were on the Essex shore and landed there, others were found further afield. It must have been shocking for the survivors and next of kin, to see loved ones in such a muddy and smelly condition but worse was yet to follow.
Naturally, with such critical reports circulating, public hostility towards Captain Harrison virtually made him a prisoner aboard his own ship, which remained isolated off Deptford awaiting the Coroner's and Board of Trade enquiries. It was only after two days waiting that he was able to return home. In Woolwich and some parts of the East End of London it was said that: '... every street had lost somebody' It was obvious therefore having been given a scapegoat; for the survivors, bereaved relatives and others to direct their anger towards him.
Probably the most damaging report was an error drawing in the Illustrated London News, a double page spread showing the Princess Alice facing in the opposite direction being 'run-down' by the collier. And for all the later evidence to the contrary, some continued to blame the Captain of the Bywell Castle for the catastrophe for the rest of their lives.
'Multitudes tramped across the marshes and trod the river banks in ranks several rows deep. They stumbled on tussocks of grass and put their feet in holes but nothing deterred them in their efforts to approach the scene of the collision. On every side complaints were made of the activity of pickpockets. There were disgraceful scenes on the river as sensation seekers rowed up to the beached wreck and broke off pieces of wood as souvenirs; the original shock of the disaster was giving place to a holiday mood of curiosity and rapaciousness. Watermen, who were paid five shillings for every body recovered, fought each other for their macabre fishing rights.'
Continue to the next page 'Old nuissance in attendance'. (8) to learn more about the Princess Alice disaster...
^ back to the top ^