Table of Contents > 1 > 2 > 3 > 4 > 5 > 6 > 7 > 8 > 9 > 10 > Officials examinine the scene. (11) > 12 > 13 > 14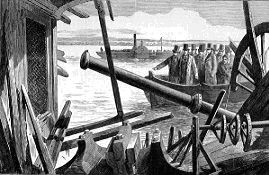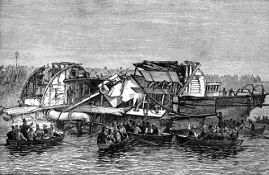 Officials examining the wreck of the Princess Alice
It was announced that the Coroner would commence his inquest into the incident itself on the following Monday (16th). Thames Police were questioned on certain navigational matters but little else; as none had actually been a witness, they could do no more. PC Lewis did give evidence as a passenger of what had occurred. Now, a few much decomposed bodies were found and landed, most of them too frightfully changed even to identify. Woman and children in particular had very little on their persons to help identification; and so the figures continued to rise.
September 15th. 1878. The total recovered by this date and identified as declared to the Coroner, being five hundred and forty two with many known passengers still missing. Some of those buried in the mass graves were identified from their artefacts, exhumed and re-buried in family graves elsewhere. Early evidence seemed almost completely to focus on the Princess Alice as the victim, putting all the blame upon Captain Harrison's seamanship. The first inquest at Millwall was certainly said to favour the Princess Alice.
The Commissioner of the Metropolitan Police, Colonel Henderson, agreed that each officer would contribute six pence of their pay towards the nationwide: Princess Alice Survivors Fund and totals were shown of each Division's contribution the following Wednesday. The return from Thames Division was not collected until the end of the month showing the involvement of all those serving and lack of availability of members to make contributions.
September 20th 1878. The final segment of the paddle steamer, the engines and boiler were recovered being taken to the Dockyard for examination and analysis.
Friday September 27th. 1878. The Coroner adjourned the inquest for ten days. The proceedings had been long, protracted and interfered with by the other enquiry. Technical evidence followed at intervals until Wednesday November 13th. 1878 when the Coroner commenced his summing up to the jury.
October 14th. 1878. In the meanwhile, much to the annoyance of the Coroner, the Board of Trade Enquiry was re-opened across in Essex requiring witnesses to attend one hearing and then the other, sometimes on the same day. With different questions being put to witnesses, different answers were received, thus, making decisions became even more difficult.
November 6th. 1878. The Board of Trade Enquiry ended and announced its findings; publishing them next day, the 7th. November. It had influenced considerably the Coroners investigations and now his jury was aware of the Board's findings before they had arrived at their own recommendations.
Continue to the next page 'Inquest findings'. (12) to learn more about the Princess Alice disaster...
^ back to the top ^