Table of Contents > 1 > 2 > Green to green or red to red, perfectly safe to go ahead. (3) > 4 > 5 > 6 > 7 > 8 > 9 > 10 > 11 > 12 > 13 > 14
The Princess Alice continued to pass across the bow of the collier towards the Essex shore her correct station before straightening up into Galleons Reach. The speed of the vessels approaching each other was estimated at about 18knots (20 mph) now, being fairly close together, the vessels on there current courses would have passed safely and correctly port to port; but as she turned onto her new course the Princess Alice for some reason continued to swing back across the bow of the collier, many theories were given by survivors and others, but no one really knows why.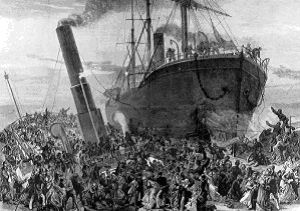 The Bywell Castle striking the Princess Alice
The time was 1920, panic swept through both vessels as the inevitable collision was about to happen, there being no more time to take avoiding action the pilot ordered 'stop engine' then 'full astern' and the helm of the Bywell Castle to be put 'hard to port';
Apparently, the substitute cox'n of the paddler John Ayres, the lone survivor from the raised walkway used as a bridge on the Princess Alice was ordered to: '...mind your helm, on account of the tide' and to: 'correct the swing'. Captain Grinstead standing out on the port paddle box commanded him at the last moment before impact: 'Hard over'...and the vessel 'spun round like a top' John Ayres claimed.
Continue to the next page 'The vessels collide'. (4) to learn more about the Princess Alice disaster...
^ back to the top ^