Table of Contents > 1 > 2 > 3 > 4 > 5 > 6 > 7 > Old nuisance in attendance. (8) > 9 > 10 > 11 > 12 > 13 > 14
'Superintendent Alstin in his launch worked hard to keep the most pertinacious away, between five and six pm near low water, a number of ruffians clambered onto the principal Conservancy barge, impeding operations. The barge foreman signalled to the Superintendent, who sent two Constables aboard; Mills and Sheppards, a couple of young labourers, far gone in drink, were shouting and using foul language. When the officers remonstrated with them, one drew a knife and swore he would slit-up any ..........bluebottles who tried to touch him! The knife was knocked aside and the men over-powered'
'After a night in the lock-up they came before Mr. Balguy, the magistrate, who said their conduct was simply disgraceful. Both pleaded guilty claiming they were drunk but were sentenced to fourteen days hard labour.' The Great Thames Disaster by Galvin Thurston
September 6th. 1878. The situation at Woolwich gave the sensation seekers more to go on. Initially bodies were placed in various sites until a large enough central mortuary could be established in the Royal Dockyard itself where over five hundred bodies were landed or brought during the following week. Each clothed body had its face cleaned, a large number put on its chest and its pitiful possessions placed in a tin box at its feet. Half the population of London - or so it seemed - meandered up and down the rows, gaping and gawping at the grisly, smelly exhibition, amongst them many a survivor, fearful that they would identify a missing relative or child; some fainted away when they did. Difficulties increased by the hour, no refrigeration being available, decomposition begin to have serious affects on the remains, and measures had to be taken for reasons of health and sanity.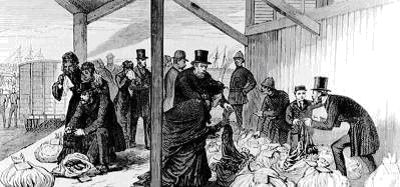 Relatives identifying property belonging to the victims at Woolwich
One old nuisance, Douglas Chellow, paraded along the riverbank, also through the temporary mortuary and outside the Coroners Court when the hearing began with a large placard bearing the words
'CAN WE BE MASTERS OF THE SEA
IF WE CANNOT KEEP A PLEASURE BOAT AFLOAT
ON THE THAMES?
THE RIVER HAS HAD HER REVENGE'
He often broke into mourner's private distress and was continually being moved-on by police. The first hearings at Woolwich Coroner's Court inquests began and would take over a month to complete.
Continue to the next page 'The Recovery continues'. (9) to learn more about the Princess Alice disaster...
^ back to the top ^